Hormonal Balance and Anti Aging Hormone Therapy
Hormonal balance means keeping your hormone system young throughout your life. You can do this with a natural hormone therapy called bioidentical hormone therapy.

Using a customized anti aging hormone prescription just for you! This will enable you to stay healthy, and to look and feel much younger than your actual age.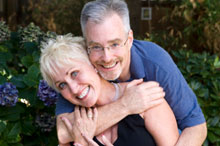 The Concept of Hormonal Balance
Some doctors believe there is no such thing as an anti aging hormone, but to those of you who have felt the benefits of natural hormone therapy with hormones like testosterone, DHEA, and HGH, you know it can work wonders!
Optimizing your hormonal profile is vital for maintaining your
immune system
and warding off disease and infections.
If you are suffering from
low testosterone
the idea is to determine what is optimal for you at your present age and circumstances and achieve that level using natural hormone therapies.
It's is a very precise process that requires a trained practitioner, but the results will absolutely amaze you!
Part of this process also involves minimizing the impact of hormones such as cortisol, insulin, and
estrogens in your environment
. These increase with age, and also exposure to synthetic substances that mimic estrogens and cause you to lose muscle, gain fat, become depressed, and unable to enjoy life fully.
An unbalanced hormonal system can increase risk for metabolic syndrome, heart disease,
adrenal fatigue
, and cancer. Fortunately you can prevent this with lifestyle changes, proper nutrition, and if need be
natural hormone therapy
The hormonal balance we are talking about for you includes testosterone, DHEA, Melatonin, HGH, thyroid, and estrogen. There are other hormones but those are the major ones that will be adjusted by the doctors for you.
They must be carefully managed as they are all interdependent and don't work in isolation but rather as an integrated system.
Bioidentical Hormone Therapy
There are a number of ways to achieve hormonal balance. One of the safest and most natural methods is called bioidentical hormone therapy. This method is used by antiaging doctors to tweek your hormone profile and get it back into balance.
The doctor uses small precise dosages of an anti aging hormone formula to get your system back to a healthy balance where you look and feel much better, and have the energy and optimism you had when you were younger.
The optimization of these hormones requires precise testing to determine baseline levels and follow up testing to determine the results of the anti aging hormone preparations that you have been given. This is all done by a qualified antiaging doctor.
The antiaging doctor who specializes in natural hormone therapy will know which tests to give you and how to read the results. He or she will then write a prescription that will be filled by a compounding pharmacy for your customized anti aging hormone formula.
It really is possible, and it will make you realize that you don't have to suffer the hormonal deficiency problems of aging, when you can restore healthy hormone levels and really start enjoying your life again!
The Benefits of Natural Hormone Therapy for You
There are many over the counter nutritional supplements and nutraceuticals that can help you achieve hormonal balance. These products should be used under the guidance of a medical professional that understands how to do it safely and effectively.
There are many benefits to having your hormonal profile optimized. You will look, and feel younger, and healthier. Your physical and mental functioning will be improved, because anti aging hormones also affect your brain as well as your body.
Hormonal balance can give you a sense of well being and optimism that has to be felt to be believed, and once you experience it for yourself, you will never look back!