Best Antiaging Cream for Antiaging Skincare
Best antiaging cream for antiaging skincare contains several key ingredients that protect collagen, improve dermal hydration, and regenerate your skin on the cellular level. That is true antiaging skin care.
Antiaging Skincare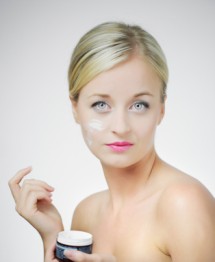 Antiaging skin care is not about just using one product, although as you will see, there are products that top the list because they combine several compounds that assist your skin in retaining its youthful texture, moisture, and elasticity.
The best antiaging cream, therefore is a composite of these substances, all of which protect various qualities of healthy skin, and together have a synergistic effect for antiaging skincare.
So with that being said, let's identify the ingredients that the best antiaging cream would have and why.
Idebenone and polyphenols for photo-protection of the skin
Glycolic and hyaluronic acid to retain moisture
ceramides for skin regeneration at the cellular level
Matrixyl 3000 to lessen deep wrinkles and restore youthfulness
Vitamin C and E for antioxidant protection
It's tough to find a product that combines all of these ingredients. Let's look at some of the top contenders and their principle ingredients.
---
"Nue Science" wrinkle fighting regimen" antiaging skin care in three steps:
The Firming Toner: Matrixyl 3000 and Coenzyme Q10

The Age Repair Serum: Hyaluronic acid

The Age Defense Moisturizer: UV screening bioactive molecule Uniprotect-PT-3, Goji berries and Vitamin E
This product is the closest to RejuveneX® Factor, but still falls short of being the comprehensive formula that the Life Extension product contains.
This product is free of methyl-parabens which are of concern as endocrine disruptors.
---
---
"Clear Clinical Restructuring"
Ingredients:
Chamomile extract, Matrixyl 3000, Cucumber
This product would appear to be the weakest entry in the group, but it does contain Matrixyl 3000 which is effective against deep wrinkles.
---
"Peter Thomas Roth Un-Wrinkle™"
Ingredients:
Neuropeptides: 4% SYN®-AKE and 10% SNAP-8, 3% ARGIRELINE®. Peptides: 3% SYN®-COLL and 3% MATRIXYL™ 3000*
This product contains several peptide compounds and includes Marixyl 3000 which makes it effective against wrinkles.
---
"Mychelle Supreme Polypeptide Cream"
Ingredients:
Proteasyl TP® Pea Peptide Rice Peptide SYN®-COLL Peptide (no parabens)
This product contains several peptide compounds, but lacks the completeness of the Life Extension product's formula. A plus is the lack of parabens, which are known to be endocrine disruptors.
---
RejuveneX® Factor
Ingredients:

Pomegranate, Matrixyl™ 3000, Ceramide-2, Ceraphyl® NGA,Grape seed extract, Green and white tea extracts, Vitamin C, Hyaluronic acid, Alpha-lipoic acid, Beta-glucan, Vitamin A, Vitamin E, RNA (ribonucleic acid).
This is far and away the most complete formula and contains all of the compounds that are needed to address the issues of antiaging skincare.
---
The Winner!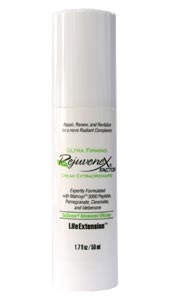 The best antiaging cream based on it's inclusion of all the ingredients mentioned above, and the completeness of it's formulation is RejuveneX® Factor, which is sold by Life Extension.
I have no financial interest in this product, so have no incentive to promote it more than the others. I do however have experience with Life Extension products and have found them to be consistently good in quality and effectiveness.
This product seems to cover all the bases and approach antiaging skincare in a comprehensive way, taking into account all of the ways in which your skin suffers in the aging process and including ingredients to address all those issues.
Remember that the best antiaging cream for your antiaging skin care program should always contain compounds that protect and promote your skin's texture, hydration (moisture) and elasticity. This will keep you looking and feeling young far into your "golden years."

Return from Best Antiaging Cream to Skin Antiaging
Return to Home Page