Antiaging Clinics - Centers for Holistic Medicine
Antiaging clinics are the centers for the wellness revolution. This is where antiaging doctors practice integrative and functional medicine, designed to promote health by slowing the aging process.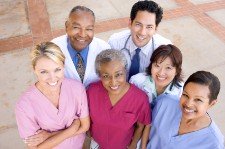 What is an Antiaging Medical Clinic?
In simple terms we are talking about a medical clinic where "antiaging medicine" is practiced as the primary health service being offered. These services are rendered by "antiaging doctors," who again practice medicine with a focus on preventing, slowing, and in some cases reversing aspects of the aging process.
Click below to visit my page on the

Anti-Aging, Longevity, and Preventive Medicine Center of Pittsburgh
This differs from a more conventional medical practice in that the focus is not on prevention of aging or disease in general, but rather intervention once disease has manifested itself.
Thus you have two different (and often competing) philosophies, "reactive" medicine vs. "proactive" medicine!
Staffing and Services
An antiaging medical clinic is staffed for the most part by doctors who have received conventional medical training, and then gone on to receive training in antiaging medicine. Despite the negative characterizations that some try to put on antiaging doctors, they are in many cases better trained and more knowledgeable than more conventional physicians!
To date I am aware of only one organization that provides a board certification in antiaging medicine, and that's the American Academy of Anti Aging Medicine. They require that anyone seeking a certification be an active, licensed Health Care Professional as a base of education and knowledge upon which to build their understanding of antiaging medicine.
The American Board of Anti-Aging Health Practitioners (ABAAHP) issues Diplomate Certification to Doctors of Chiropractic (DC), Doctors of Dentistry (DDS), Naturopathic Doctors (ND), Registered Pharmacists (RPh), scientists (PhD and similar), Registered Nurses, Nurse Practitioners, and Physician Assistants, and Licensed Acupuncturists (LAC).
Other staff and support people in an antiaging clinic are similar to what you would find in any medical clinic, although they may include practitioners such as acupuncturists, massage therapists, nutritionists, and exercise therapists, to support the services of the antiaging doctors at the clinic.
What Kind of Services are Provided?
Again, this varies with the antiaging clinic, but in general the antiaging doctors at the clinic will provide medical therapies such as:
Bioidentical hormone therapy
Medical testing and evaluation
Nutritional counseling and nutraceutical therapy
Exercise programs
Stress management therapies
Some of these clinics focus more on aesthetic medicine, focused on making people look younger with therapies for the skin and body which are more cosmetic in nature, such as:
Dermabrasion
Liposuction
Cosmetic surgery
Laser skin treatment
Botox
Chemical peels
While these cosmetic therapies are medically approved, they are concerned with appearance, and in the strictest definition of the word I don't feel they are true antiaging therapies.
My personal belief is that procedures like liposuction and botox are not in keeping with what should be the true goal of medicine which is to promote health and wellness.
While I certainly don't condemn anyone for wanting to look younger, some of these cosmetic therapies have risks, and they don't really get to the heart of what antiaging really is, which is to make the body as a whole younger and promote overall wellness.


How To Find an Antiaging Medical Clinic
These two links go to my listing of doctors and clinics:

Antiaging Doctors and Clinics by State
Antiaging Doctors and Clinics by Country
I will be adding to the list as I get more information about new doctors and new clinics opening up. If you have trouble locating an antiaging clinic or doctor near you, feel free to reach me via the contact box on my site and ask for help. However please try the listings on my site first before you contact me.
These clinics are the wave of the future in medicine because they are places where you go to "prevent" illness, rather than "react" to acute illness that you already have. Remember the old saying that an ounce of prevention is worth a pound of cure. Antiaging medicine is that precious ounce of prevention that will help to keep us well!



Return from Antiaging Clinics to Antiaging Doctor

Return from Antiaging Clinics to Longevity and Antiaging Secrets