Southern California Center for Anti-Aging



Southern California Center for Anti-Aging is a wellness and longevity clinic with a specialty in hormone replacement therapies, nutritional counseling, and medical weight reduction.

What We Do....

We are a doctor directed wellness clinic for optimal health. Our strategy is to tailor a program of therapy for each individual based upon their medical record, physical evaluation, symptoms and laboratory testing.


The regimen focuses on Bio-identical Hormone therapies and optimization, appropriate supplementing with top-quality nutraceuticals (nutrients and pharmaceuticals), nutritional and diet guidance, exercise and stress management solutions.
Our antiaging medical clinic offers real help through several in depth and clinically monitored weight reduction programs guided by
Dr. Judi Goldstone
, a board certified internist experienced in "bariatric" i.e., weight loss therapy. The goal of the weight loss regimens at the Southern California Center for Anti-Aging is to resolve the root metabolic imbalances that result in unwanted weight. Every program presents healthier choices, exceptional guidance and a personalized framework to deal with your individual metabolic imbalances for the best results.
Dr. Judi Goldstone - Committed to helping clients attain exceptional health!
Dr. Judi Goldstone M.D., is a board certified medical doctor, anti-aging and weight loss authority, who has dedicated her life to
helping both men and women enhance their health and wellbeing utilizing the most innovative medical strategies.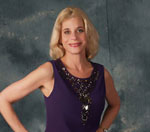 Certified by the American Board of Internal Medicine and a member of the American Society of Bariatric Physicians, Dr. Goldstone obtained her medical degree from Mount Sinai School of Medicine in New York, where she graduated in the top third of her class. She is also a cum laude graduate of the University of California at Los Angeles.
Her life-long involvement in weight loss, better health, and longevity has inspired Dr. Goldstone to perform weight loss and wellness treatments since 2001, and become a member of the American Academy of Anti-Aging and Regenerative Medicine in 2005. She is well known for her proficiency in Bioidentical Hormone Replacement Therapy, nutraceutical utilisation, nutrition and weight loss.
Dr. Judi Goldstone is not only a serious advocate of health, fitness and weight maintenance; she is an energetic participator in this approach to life. She deeply believes that a successful weight loss system would be a major benefit for suitable men and women.
Please click the link below for more information about the Southern California Center for Anti-Aging and how they can help you live a longer, healthier and happier life!
Southern California Center for Anti-Aging
Contact Information
23823 Hawthorne Blvd.
Torrance, CA 90505
(424) 247-4962