Home Gym Workouts - The Convenience of Fitness Training at Home
Home gym workouts allow many people the convenience of fitness training at home versus commuting to a gym or health club, and losing valuable time in the process! This is the reason why home gym fitness equipment is a multi-million dollar business!


Why Train at Home?
The advantages of fitness training at home are obvious! You save time that you would ordinarily take to get to a gym or other training facility, and you to go at your own pace, in familiar and comfortable surroundings.
Some of you who are not in very good physical shape may feel self-conscious working out at a commercial gym with very "in shape" 20 year olds! Women are especially conscious about their perceived imperfections, and the last thing they would want is to be compared to that flawless 20 something working out next to them!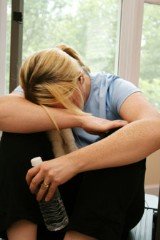 First aid for injuries, and icing a sore muscle or joint after training is much easier in your home. Post workout nutrition is also something that is easier to do when you are in your own kitchen and can whip up your carb and protein drink right after you finish training.
Downsides to Home Gym Workouts
There are of course problems that come with home training. The expense of buying home gym fitness equipment, as well as children, spouses, phone calls, and other distractions can make the trip to the gym a pleasant escape from the craziness of your household.
When training with weights it is often a good idea to have a spotter, someone who assists you and watches over you when you are using challenging weights.
As well another individual to motivate you during difficult workouts is always a plus, but is tough to get at home. A power rack with safety rods can serve to protect you if you are unable to lift a weight!
Most home gyms are a far cry from what is available in a commercial club, and you will obviously have to be a bit creative with your fitness training at home to get the same results you would get at a fully equipped gym, but it CAN be done!
Outfitting a Home Gym
Your choice of equipment will depend on the type and intensity of the training that you do. In general commercial grade equipment is not necessary for home gym workouts, because home gym fitness equipment does not get the abuse it would in a commercial environment.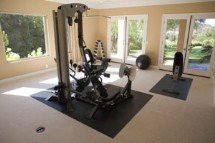 You will want to make sure that the equipment is sturdy and of good quality, and there is plenty of good equipment available for even the most demanding home gym workouts. I will outline several approaches to outfitting a home training area.
Resistance Training
You can go with what is known as a multi-station such as the popular Bowflex machines seen on television. These are good for general fitness related resistance training, and convenient as they allow you to change exercises and resistance quickly. However, they are not adequate for serious or sports oriented resistance training.
Another popular home exercise device is called the Total Gym and uses a sliding seat to leverage your own bodyweight for resistance.
To increase resistance you change the angle of the seat. For fitness training at home, this is one of the most effective options.
Smith Machines are another possibility, as they provide a frame and sliding track for the weight, making it much easier to do the exercises in good form. These machines are limited, as they do not develop the balance free weights do. They are also limited in the exercises you can perform on them.
A free weight setup consisting of the following home gym fitness equipment should be more than adequate for your home gym workouts.
Squat rack or power rack
Olympic style barbell with extra weight
Workout bench adjustable from flat to incline
Dipping bars
EZ-Curl bar with Olympic size sleeves
Set of latex stretch bands
Chinup bar
Situp board
Ab wheel
Stability Ball or "Swiss Ball"
Good quality adjustable dumbell set
Plate Mates (incremental plates for small weight increases)
Set of kettlebells
Cardio Equipment
Home gym workouts also require a cardiovascular component as well, and there are many options for cardio fitness training at home:
Eliptical equipment
Treadmill
Stationary Bicycle
Rowing Machine
Kettlebells used for cardio conditioning
Jump Rope
Dragging sled
This is by no means the ultimate list! There are as many options for doing conditioning workouts as the creative person can imagine. Let me emphasize that there are no magic pieces of home gym fitness equipment that will "give" you automatic results. You have to work at it!
Putting It All Together
Fitness training at home can be a great way to get just the right amount of healthy exercise, in a safe, comfortable, and convenient setting. If you are unfamiliar with what is needed and where to get it, I can help!
I am available for consultation by phone or email for helping you to set up a home gym. You can reach me via the contact form I have many years of training experience and can help you get set up with exactly what you need!
One thing I can tell you after more than thirty years of training is that you don't have to go to a gym filled with fancy equipment to get fit! Home gym workouts, using solid, basic home gym fitness equipment, together with a good training routine and proper nutrition can and will work wonders!


Check Out the Quality Euipment at New York Barbells
Return from Home Gym Workouts to Antiaging Exercise
Return from Home Gym Workouts to Longevity and Antiaging Secrets