Dr Oz – Promoting Antiaging and Integrative Medicine
Dr Oz while not specifically an antiaging doctor, has put antiaging and integrative medicine in front of a national audience. His TV program the Dr. Oz Show is helping to spread the message of health empowerment worldwide!


Mehmet Oz is not someone you would immediately think of when the subject of antiaging comes up, but I decided to write a page on him because in my opinion he has advanced the cause of antiaging medicine with his advocacy of nutrition and integrative medicine for treating health problems. Those two things go right to the heart of what antiaging medicine is!
Dr. Oz was born in Cleveland, Ohio, to Suna and Mustafa Öz, who had emigrated from Turkey. His father came to America on medical scholarships, while his mom was the daughter of a pharmacist in Turkey. Clearly, the practice of medicine was in his blood!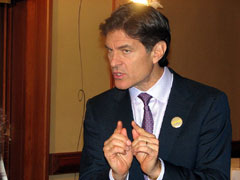 He was educated at the Tower Hill School in Wilmington, Delaware and received his undergraduate degree from Harvard University in 1982. In 1986 he He achieved joint MD and MBA degrees from The Wharton School and Pennsylvania University School of Medicine.
Awards and Achievements
Dr Oz is a professor of Surgery at Columbia University and directs the Cardiovascular Institute and Complementary Medicine Program at New York-Presbyterian Hospital. He has authored 400 plus research papers, book chapters and medical books. He has also received several patents as well. His particular interest is heart replacement procedures, health care policy, and less invasive cardiac surgery. He is still a practicing cardiovascular surgeon, preforming many heart operations throughout the year.
He first appeared on The Oprah Winfrey Show as a health expert for five seasons, addressing subjects such as diabetes, and heart health. He was one of the first high profile medical practitioners to introduce resveratrol to a national TV audience as a potential anti-aging nutritional supplement.
Dr. Oz is also co-founder and chairman of HealthCorps, a charitable organization that provides a small stipend to college graduates who spend two years mentoring high school students in the areas of nutrition, health, and physical fitness!
Oz joined Jeffrey T. Arnold (founder of WebMD) in 2009 as the co-founder of Sharecare, Inc., which provides an interactive Q&A format which allows experts in the health-care industry to answer health-related questions.
His syndicated TV show, The Dr. Oz Show appears daily. He also has a talk show on Sirius XM Radio. He was part of a weekly spot on the Oprah Winfrey show titled "Oprah's Allstars" answering health related questions from the audience.
He also received the following accolades:
Made Esquire magazine's list of the 75 Most Influential People of the 21st Century
Winner of the Gross Surgical Research Scholarship
Ranked Oz 44th on Time magazine's list of the 100 Most Influential People in 2008
One of The Harvard 100 Most Influential Alumni
Listed in Doctors of the Year by Hippocrates magazine
He is listed annually in Castle Connolly Guide for the top US physicians
Mehmet Oz is a prolific writer and conveyor of valuable medical information to the public. He recognizes the importance of getting people to understand why it's important to do certain things such as including certain beneficial foods in your diet, and also avoid certain other things which may be harmful. He knows that it is this understanding which prompts people to adopt healthier habits and lifestyle, and so he strives to explain things thoroughly instead of taking the attitude you should simply just "do what your doctor tells you.
Books by Dr. Oz
YOU: Being Beautiful: The Owner's Manual to Inner and Outer Beauty
Complementary and Alternative Cardiovascular Medicine: Clinical Handbook
YOU: Staying Young: The Owner's Manual for Extending Your Warranty
Minimally Invasive Cardiac Surgery
YOU: On A Diet: The Owner's Manual for Waist Management
YOU: The Smart Patient: An Insider's Handbook for Getting the Best Treatment
YOU: Having A Baby, The Owner's Manual from Conception to Delivery and More
YOU: Breathing Easy. Meditation and Breathing Techniques to Help You Relax, Refresh, and Revitalize
Healing from the Heart: A Leading Surgeon Combines Eastern and Western Traditions to Create the Medicine of the Future
YOU: The Owner's Manual: An Insider's Guide to the Body that Will Make You Healthier and Younger
In addition to the above books which he has co-written with Dr. Michael F. Roizen, Richard A. Stein, Ron Arias, and Dean Ornish, Dr Oz has authored many editorials in The New England Journal of Medicine, Esquire Magazine, O Magazine, TIME, Newsweek!
In particular the book which I have read "YOU: Staying Young: The Owner's Manual for Extending Your Warranty" is an excellent read, especially for people who are not knowledgeable about some of the science underlying medicine. I was astounded by Oz's ability to take complex concepts about physiology and aging and make them easy to understand.
Integrative Medicine
Dr Oz is a advocate of what is called "integrative medicine," which is the combining of alternative therapies with conventional therapies. He has taken some flack from conventional doctors that claim he is promoting unproven and potentially harmful alternative medical practices. However Dr. Oz states that these alternative treatments should be considered, not as replacements for conventional treatments, but as additions to orthodox therapies which can help bring relief to patients.

Fortunately for Oz, his medical credentials and track record of achievement helps him whether the attacks from others in the medical profession who are hostile to anything which falls outside of the mainstream, or are in fact ignorant about the principles involved in alternative therapies.
His ideas bear listening to, and his books should be considered required reading for anyone who seeks a greater understanding of the human body, and how we can all optimize our health and happiness.
Memet Oz is an example of the new breed of doctor, a practicing physician, educator, and consummate communicator who believes in empowering people to take responsibility for their health, and to see themselves as active participants in their treatments and individual healing process.
This is the direction that medicine desperately needs to go in, and it takes doctors with the courage and stature of Mehmet Oz to take us there!


Return from Dr Oz to Antiaging Doctor

Return from Dr Oz to Longevity and Antiaging Secrets